An introduction to the vast possibilities of cinch making…  What an awesome opportunity to share the joys this Art of Cord 'hand-crafting' can provide!  Our hope is that what is shared on the pages of this site will inspire and encourage each visitor to see cinches and many other agrarian skills in a whole new light.
For those who may be unfamiliar with the process of cinch making, we'd like to take this opportunity to clear-up the idea that cinches are made by machines.  In fact, ALL cinches made with cords of any type, are still made with the effort of human brains directing the fingers.  Those cheap cinches that are "factory" made still require the sweat and tears of some worker who most often sees very little return for the dedicated effort.
It is worth noting that when machine made cords appropriate for cinches can be obtained, and a worker remains focused on one part of the cinch or only learns a simple style that allows for increased efficiency, they can whip them out in a hurry.  However, due to the emphasis on quantity to make a wage, little if any incentive is present to back up and correctly re-work mistakes.  The nature of working with the cords themselves can be quite a science.  Variations in processing the fiber through several steps to produce the cords can create undesirable results when focus is purely placed upon rapidly completing a quota.
Thankfully a growing range of options for today's consumer to select from has been available from time-to-time allowing reference points for materials use and design.
While the cheap cinches seem to have a place for those who only care about price, the more discriminating consumer is looking beyond the published "value" and taking greater care in considering what will be best for the Equine.  After all, we can list plenty of reasons to avoid clothing we find uncomfortable, so why not think how our four-legged companions might describe the feel of what we choose for them to 'wear'?!
Now that softer fibers such as Alpaca and Young Angora Goat hair have become available periodically, a good number of folks are trying them out.  Some have even made startling observations about how rapid their Equine's behavior has improved and even how higher grades of real mohair cord cinches result in the saddle remaining in position better even without tightening the cinch as much as with cheaper cords.
Understandably, many have fallen prey to marketing blurbs which are often coined by folks who have little understanding of what is at stake.  Had they taken some time to do a little research on the items they chose to make available, especially becoming familiar with the science behind different types of fiber used in cinches, sales might be on the increased for them at prices that would help bolster the industry by providing more incentive for producing quality that can pay for improvements. Could it be that  folks might share their joy with their friends about how a retailer actually took the time to explain the cinch options to them identifying the reasons for investing in true, quality materials and craftsmanship?!
Many of us who are making ornate cinches have felt it important to revive an art that had become lost in the shadow of our Equine's belly.  Just because you can't see much of it, doesn't mean it should be forgotten.  As Ray Hunt explained when I had a chance to ask him opinion of the most ornate cinch I had yet designed, "The attention to detail is evident…" Hoping he would tell me it would be good for use, I pressed for more of an answer.  He simply reminded me,"You have to keep an eye on it, let the horse tell you!"
By creating cinches that are obvious works of art with careful attention and deeper understanding of the science, we are encouraging folks to take a second look that the cinch.  Just because some folks in the industry have chosen to devalue the cinch and 'cheapify' them to a point where 100% acrylic has been passed off as a "Mohair" cinch, doesn't mean that the rest of us don't care.  If nothing else, such mislabeling has motivated us to redouble our educational efforts to encourage folks to give Real Mohair a reasonable try.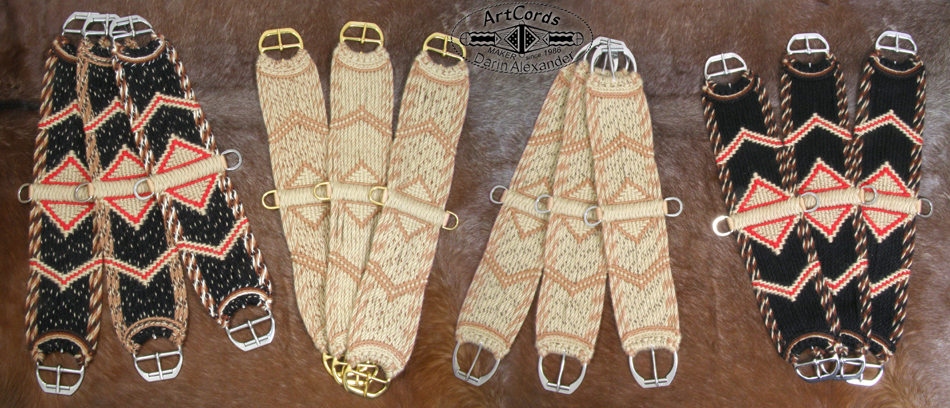 One of the most wonderful aspects of reviving this art of cinch making has been the interest expressed by youth, of all ages, yes, even those who, in spite of physical age, have realized youthful vigor upon learning the ropes of cinch making. In fact, we have spoken with one fellow who will soon be celebrating 80 years. He has rather recently picked up cinch making that he learned as a  youngster in the 1940s.  He expressed approval when we inquired if he would agree to an interview and we plan to include some of that video in the future.  🙂
As we develop this topic further, we simply invite you to consider the various possibilities and tell others of what you are learning here.  We look forward to hearing what your thoughts are as well.
We invite you to consider the cinch more carefully "For the Equine's Sake!"
Thank you for sharing our passion with others.